Welcome to our secure Client Portal! The IRS is very insistent that when we communicate with our clients, we take every precaution to protect data and identities. We found a new company that we really like for sharing files.
About VeriFyle
 Unlike many other cloud-storage and cloud-sharing apps, which use a single master key for encrypting and decrypting their users' data, VeriFyle's Cellucrypt® technology uses password-derived keys on top of a public-key system to individually encrypt each data object with six unique keys, adding several additional layers of protection for their users. With the additional option to disable password reset, VeriFyle becomes the most secure file-sharing app available, while remaining extremely simple to use.
VeriFyle delivers ultra-secure messaging and document sharing, all from a simple, intuitive patented user interface. VeriFyle was built from the ground up to be the most secure document-sharing and messaging solution, and to deliver improved productivity and control of information to its users. VeriFyle's industry-leading, patented encryption technology gives users the highest level of security, protecting them from bulk-access vulnerability through the unique encryption of each individual document and message thread.
How it Works
Hosts (that would be us) invite Guests (that would be clients) into Workspaces in order to view shared information. When a Guest is invited by a Host, the Guest will receive an email with a secure link that will take them straight into their own VeriFyle account where they will see what's being shared with them. It is extremely simple to use while maintaining the highest levels of security.
An Example of the email a Guest receives: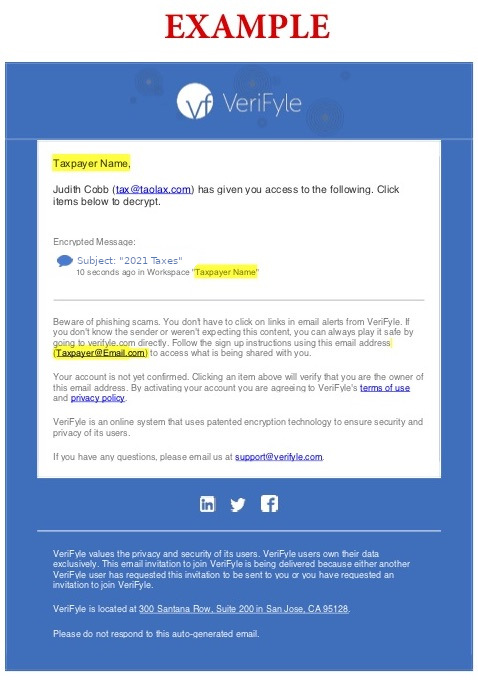 VeriFyle additionally allows you to access your Workspace from your phone. Download the applicable application for you!